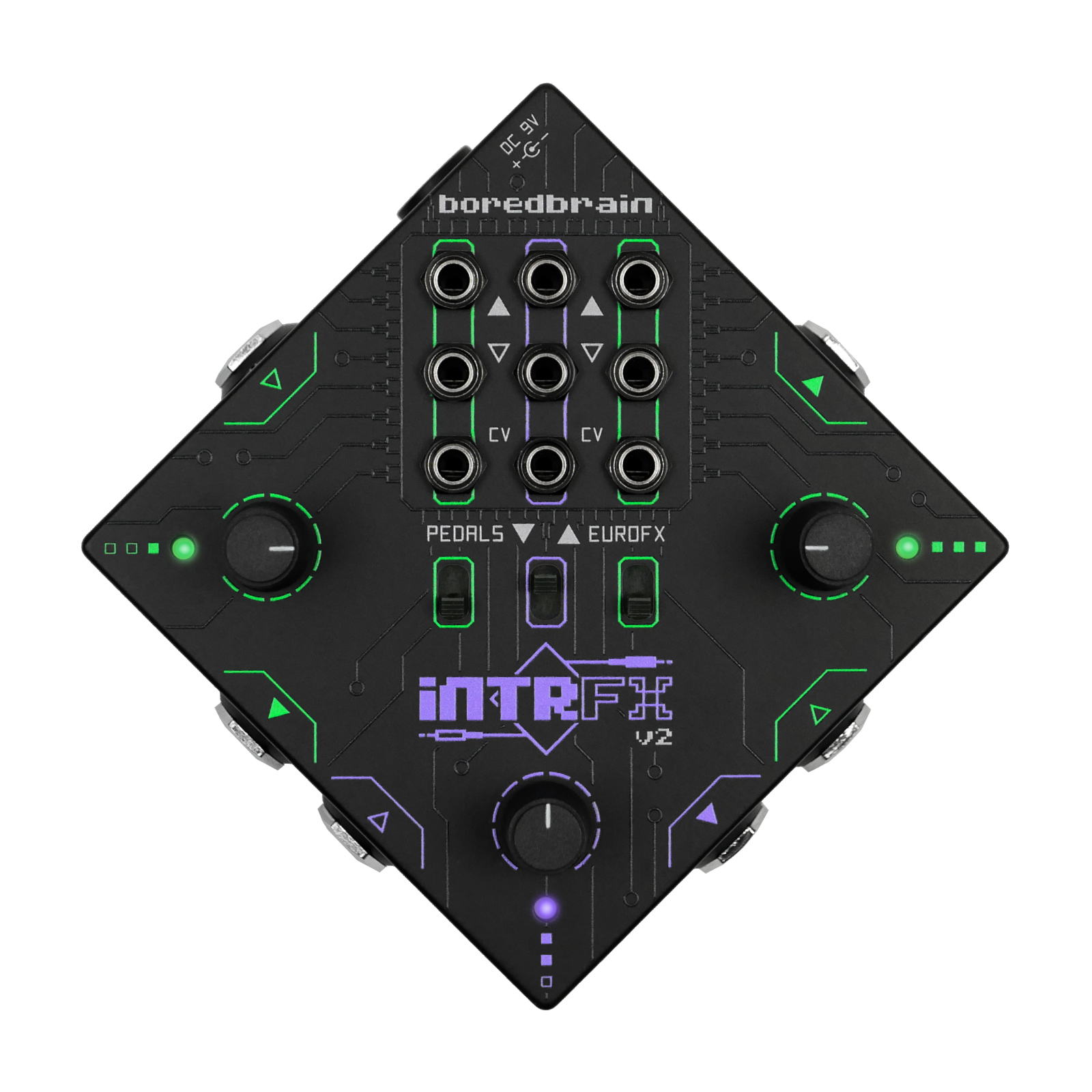 Project Info:
LAVA LAB'S team helped design the circuits, choose components, and program the hardware to meet a very specific feature set. 
Here at LAVA LABS we have a deep connection to music and the scientific field of audio and acoustics. We are delighted to work with Boardbrain Music for over 6 years and going. Starting from the brilliant minds at Boardbrain Music who come up with the product ideas we then develop the circuits and the electronics to make products right here in Richmond, VA.  Together some amazing products are created for people to explore the musical universe of electronic sounds. For availability check out their website for more details.
This is an excerpt from our Boardbrain's website.
INTRFX allows eurorack-level signals to be processed with pedals and/or outboard effects, and also allows line-level instruments to be processed with eurorack modules. Each of its three channels has an Interchange Switch to swap this mode, as well as an FX Blend parameter which can be controlled via CV. And because of its compact physical design, the INTRFX can be placed almost anywhere and connected to eurorack systems with 3.5 mm patch cables rather than bulkier 1/4-inch cables.
Feedback effects can be achieved by switching into the "wrong" mode, sending the FX return back into the FX send, while still allowing for dry signal blend and modulation. Channels can also be patched into one another and toggled between modes for experimental routing. Conveniently, each channel can operate as a reversed linear VCA for both audio and DC signals when no effects are used.
Whether you're patching eurorack through classic guitar pedals or running a drum machine through your gnarliest modules, INTRFX makes these connections easy and flexible.
From start to launch; here are the product development steps.
Schedule a 30 minute discovery meeting. We want to know everything about the future product.
Product development is all about having a dedicated team building your prototype, testing and refining until it is ready for manufacturing.
3.
Product launch and support
After the prototype has been designed built and tested our team of manufacturing experts will help you with everything needed to launch and support your new product.