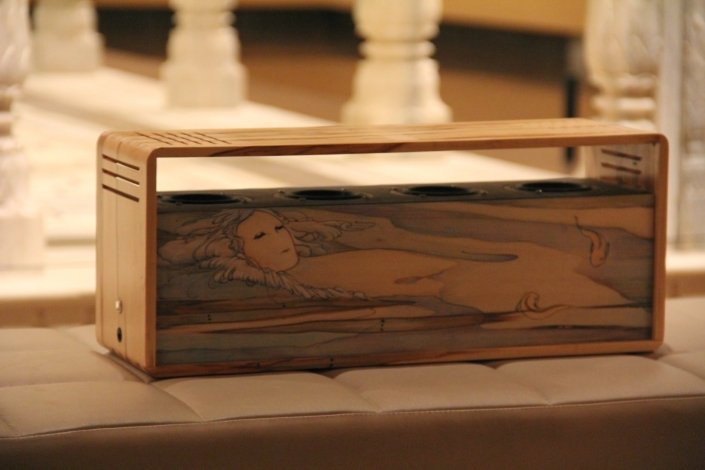 Project Info:
LAVA LAB'S team helped design the he's very special speaker for an art gallery show. That entailed an acoustic design of the enclosure, audio circuits, choose components, and program the hardware to make a beautiful bluetooth speaker.
Description of Aura speaker from the client's website: Have you ever wanted your speakers to be more beautiful, sounded unforgettable and easy to use? We have. There are thousands of wireless Bluetooth speakers out there polluting the market.  Most people have a couple of different Bluetooth speakers laying around.  We wanted to create something that is different that kept getting better over time. With Aura you can order custom artwork from select artists from Richmond, VA while listening to HI-Fi music streaming from your phone.
Lava Lab's Contribution
Design renderings into videos and images
Acoustic design and simulation using finite element analysis
Acoustic Measurements using RoomEQ and Sound Check
PCB Design and hardware testing
Final assembly of the acoustic enclosure, amplification board, batteries, and speakers
The final product is the Aura Speaker. A fully wireless Hi-Fi speaker that streams music from an iPhone and Android devices alike using the latest Bluetooth 5.0 standard with the highest streaming quality available.  The resonator board on top is custom designed to radiate sound in all directions and add natural wood resonance to the acoustics.  The variety of woods chosen for the speaker are American Maple Ambrosia, Walnut and Babinga. Each one is handmade with meticulous attention to details.  The artwork is also handmade by Richmond, Virginia based visual artists including, Miles Hall, Shawn Yu, Juliana Phung, Travis Helmkamp and more. The speakers were exhibited at the Working Artists' Lyceum in Richmond's Scott's Addition.
From start to launch; here are the product development steps.
Schedule a 30 minute discovery meeting. We want to know everything about the future product.
Product development is all about having a dedicated team building your prototype, testing and refining until it is ready for manufacturing.
3.
Product launch and support
After the prototype has been designed built and tested our team of manufacturing experts will help you with everything needed to launch and support your new product.